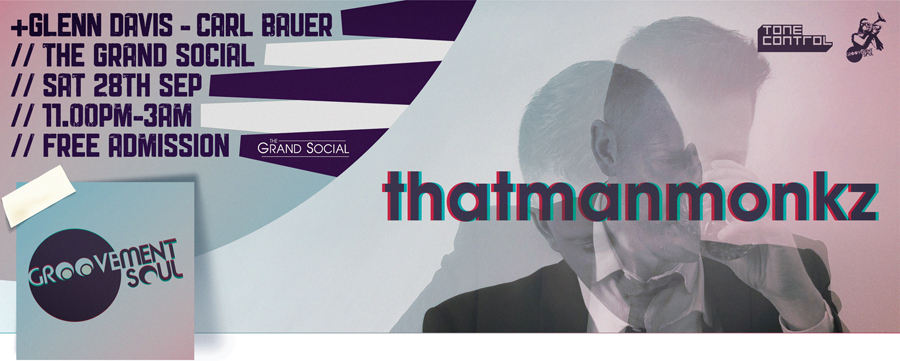 On Saturday 28th September Thatmanmonkz will make his debut Dublin DJ performance at our Monthly residency in the Grand Social.
FACEBOOK EVENT FOR  28TH SEP GIG IN THE GRAND SOCIAL
GS17: THATMANMONKZ – FITTER, HAPPIER DJ MIX – GROOVEMENT SOUL EXCLUSIVE
It's an absolute pleasure to host this exclusive mix by Thatmanmonkz. We've had a close eye on his unique productions for a while now so it was a natural progression for us to also ask for a DJ mix to showcase his DJ skills. We feel it's the perfect teaser for his gig with us at our monthly Party in the Grand Social.

His new EP, Overproof, came out on vinyl in July with support from, Kerri Chandler, Charles Webster, Soulphiction, Tensnake, Anton Zap, Ugly Drums, X-Press 2, Semtek, Flori, Jimpster, Brothers Vibe, Luke Solomon, Jojo Flores, Lars Behrenroth, Kiko Navarro, Rainer Truby, Glenn Underground, Pablo Valentino, Nick Holder, Manoo, Ennio Styles, 6th Borough Project, Leftside Wobble, Phil Asher, Atjazz and too many more to mention!
Teshno review
thatmanmonkz's first ep on tone control was a noteworthy release and, happily, so is the follow up. the story goes that scott moncrieff was given a crash course in production by arctic monkeys producer ross orton, but he's clearly put a lot of time in since, because there's a real personality to his records in both the moods and grooves. 'overproof,' like most of this man's productions, just has a lovely vibe to it: there's plenty of vintage, humid space, it's louche and frayed round the edges and is a pleasurable place to be. it feels like there is no real agenda to get you dancing or to take you somewhere you haven't been, rather the aim is to infect your soul with breathy vocal samples, musical basslines and delicately jazzy chords then see what happens. of course, you will dance in the end, but mundane functionality never enters in to it.
'right on' is the jewel in this ep's crown, though: a hunched and knackered kick drum trudges heavily beneath much more light-fingered, moodymann-esque keys. nice enough already, to be sure, but it's the subtle funk of the tumbling bassline that really seals the deal. also infected with various whispy trumpets and spoken word snippets, this is music with real atmosphere and presence that's like a recording of a bustling house party rather than a wholly synthesized world of beats and bass… it's very human, essentially. on the flip, 'the feeling' is full of them – soulful, romantic, warming vibrations that run right through you as they do the music. heat damaged organ notes, the distant squelch of fingers sliding up and down guitar strings and some subtly balearic licks from the same instrument all make for a woody, organic listen that makes you feel as if you are cuddled away in some candle-lit basement. soulful is an oft-overused descriptor when it comes to house music, but this shit really is.
listen to, then buy Overproof, at juno

TRACKLIST
1. Moodymann – The Thief That Stole My Sad Days (Ya' Blessin' Me) (KDJ)
2. Rhythm Plate – Dirty (Kolour Recordings)
3. thatmanmonkz – Overproof (Tone Control Music)
4. Pablo Valentino – Old New Swing (City Fly)
5. Waze and Odyssey – I Want You, You, You (Throne Of Blood)
6. Rick Wade – Can't You See (Robsoul Recordings)
7. Rick Wilhite – Get On Up (Theo's Late Dub) (KDJ)
8. M.C.D.E – Send A Prayer Pt.2 (Faces/MCDE)
9. thatmanmonkz – Don't Sleep (Demo) (Unreleased)
10. Chez Damier – Untitled (KMS)
11. Roman Flugel – Even More (Clone Jack For Days Series)
12. Romanthony – The Wanderer (Fusion Dubb) (Prescription)
13. Cajmere ft. Dajae – Brighter Days (Underground Trance) (Cajual)
14. Radiohead – Fitter, Happier (Outro Edit) (EMI)