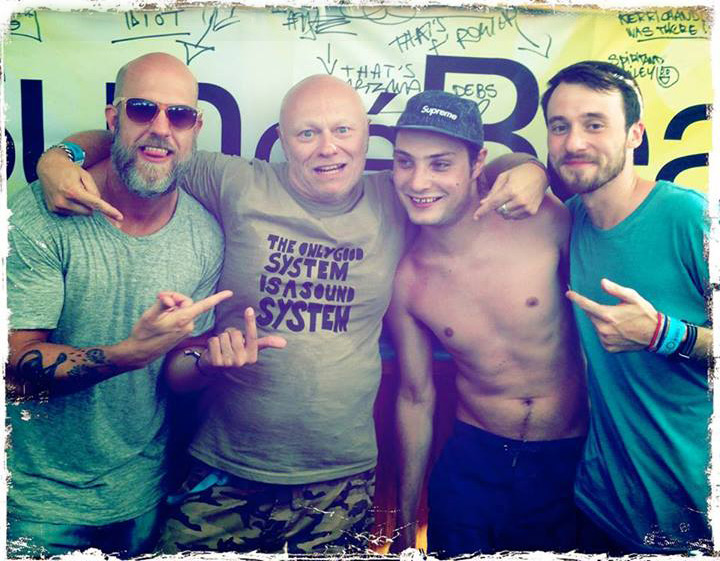 Lay-Far shares with Groovement Soul his stand out moments from Suncebeat 4 2013.
Groovement Soul has been keeping a close eye on Lay-Far's progression over the last two years since we first heard his music so it was great to see him smash it on the Beach Stage and the Mind Fluid Boat Party. Lay-Far is already a respected underground producer but he showcased his killer DJ skills over the week, carving up Latin, Afro goodies with disco, house and soul. A real musical journey.
Kev Beadle programmed, we feel, the best Boat party we have had the pleasure to be on. A party with Lay-Far, Kev Beadle, Mad Mats and MCDE was always going to be special with such a great line-up but it deliverd so much more than we ever expected. A non-stop carnival from the first to the last track, killer dancefloor vibez.
One to remember for sure.
LAY-FAR'S MEMORIES
There were so many highlights during the 7 days of Suncebeat 4 2013. Each day was special in it's own way! I deeply enjoyed the sets by Ronnie Herel, Sarah Favouritism, Kev Bealde, Phil Asher, Mad Mats, Lil Stevie, Steve Butler, MCDE's rare groove set on the beach, Atjazz, Karizma, Osunlade, Martin Lodge… the list goes on and on….there was no music I didn't like, actually .
Some of the vivid moments for me were:
Atjazz dropping Zaki Ibrahim, Kid Fonque & Dj Whisky – BE (Atjazz & Jullian Gomes Remix @ The Barbarellas. Very deep and emotional!
Karizma dropping his own Twysted @ The Barbarellas. People went bananas!
Phil Asher playing Spiritcatcher – As we fall on the Monday Picnic Boat, when the clouds were gathering round. Such a magic moment!

Kev Beadle playing Webster Lewis – Barbara Ann on the Mind Fluid Boat.

Sarah Favouritism dropping Ninetoes – Finder @ The Beach in the afternoon.

Osunlade playing Jill Scott – My Love (Jason B Remix) @ The Beach Stage on Monday. So soulful!

Martin Lodge playing Roy Ayer's – Everybody loves the sunshine during the Monday Picnic. Such an obvious tune, but I perceived it differently back then. I realised that it was actually created for the moments like this – happy people grooving together in the beams of the evening sun.
Thanks to Lay-Far for sharing his best moments with us.
TRACKS THAT TURNED GROOVEMENT SOUL HEADS
Jack Son – Thrill Her (Osunlade caused dancefloor devastation every time he played this)

Lone – Airglow fires  (Kev Beadle Beach Stage)

Nolan  – Freak On (Kyodai Remix) (Kev Beadle Beach Stage)

Fela Kuti – Shakara – Osies Bump edit

LNTG – do you believe in god – Osunlade  Barbarellas

LNTG – I get deeper – Osunlade  Boat party

Owiny Sigoma Band – Nyiduonge Drums (Lay-Far beach stage)

Dwayne Morgan – You Everything (Yam who? Rework)  (Lay-Far beach stage)

Paul Weller – Thinking of you  (Kev Beadle on the beach stage)

HNNY – For the very first time – Midas Touch mixed together (Mad Mats On the Beach Stage)

Todd Terje – Strandbar (Kev Beadle on The Mind Fluid Boat)

Midnight Express – Danger Zone (MCDE on the Mind Fluid Boat)

Davina – Don't You Want It – (MCDE Last track on the Mind Fluid Boat)